ACCOMMODATION
We use a series of adventure centres spread throughout the Hautes Alpes that offer quality accommodation that is clean, secure and meets full French educational youth standards. All our centres are easily accessible by coach, and provide comfortable bases for our large group classes.
FOR LARGER GROUPS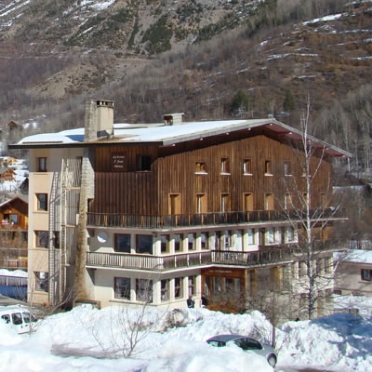 PELVOUX
PELVOUX
Our courses are based in the Vacances & Vous hostel in Pelvoux just outside Vallouise. The hostel has a café and restaurant on the ground floor, offering tasty high calorie meals for our hungry students.
Each of the next three floors has 2/3 and 4-bedded rooms, each with its own en-suite facilities. Every floor also has a recreation area. Outside there is a football pitch and an adjacent building with classrooms that we may use for activity briefings.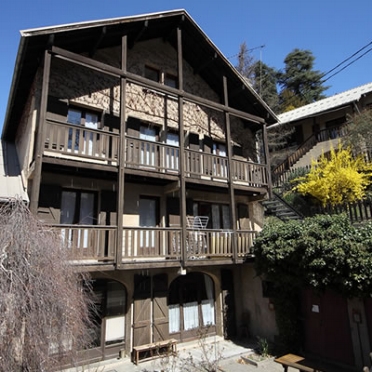 Guillestre
GUILLESTRE
Our groups stay at the Centre International des Arts et Loisirs (CIAL) Centre in Guillestre. The centre provides fully catered accommodation with students staying in bunk rooms with various numbers in each room.
It benefits from an outside terrace area, as well as classroom spaces, and a large meeting/disco room. There are also lounge areas for evening activities and free time where students can relax and chill out. The centre is in the heart of Guillestre town, with easy access to all the activities on our Queyras programs.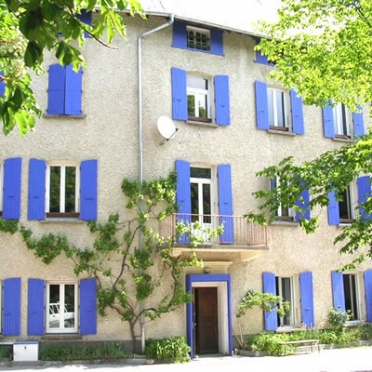 EMBRUN
EMBRUN
Close to Lake Serre Poncon our groups stay at the holiday centre Loisirs Provence Méditerranée (LPM) at Baratier. This is fully catered accommodation. The students sleep in bunk rooms with teams of between 4 and 8 in each room.
The centre has its own grounds (three acres in size) with woodlands and numerous sports facilities.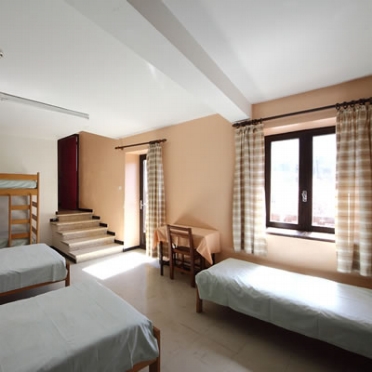 STUDENT BEDROOM
Typically, bedrooms for students sleep 2 - 6. This room at Guillestre sleeps 6.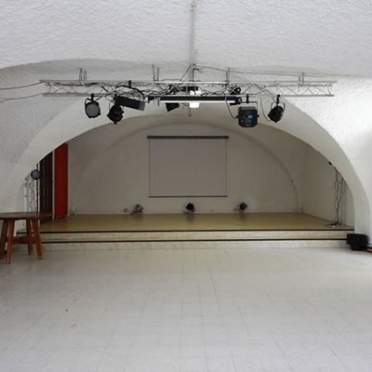 briefing room
Each centre we use includes a briefing room used for meetings, evening talks and activities, disco and award nights, and wet weather activities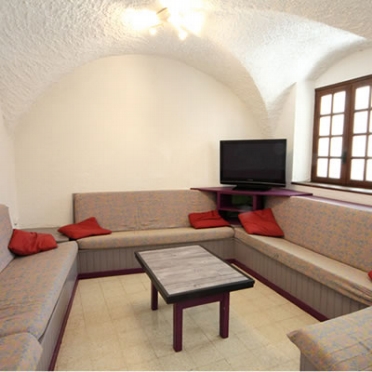 chill out area
Each centre includes areas where students can relax, discuss the day's activities and stay in contact with their friends.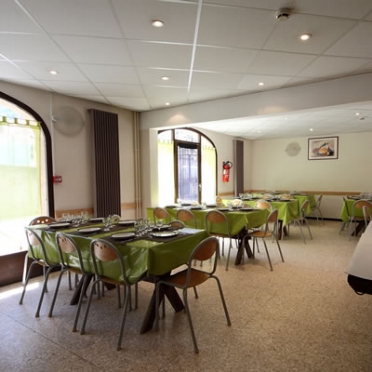 DINING AREA
Spacious areas where we all eat together, both students and teachers, ideal for group bonding and briefing on the following day's activities.
FOR SMALLER GROUPS & FAMILIES
Through our partnership with AlpBase.com we use their self-catering and fully-catered chalets in the Vallouise Valley, offering very comfortable accommodation for school and college groups between 5 and 15 in size. We also have arrangements with local hotels and gites, so we are able to cater for a wide range of budgets.
Thank you for another great Year 9 KS3 multi-activity course. It was a pleasure to work with you, as always – a great week. I was completely worn out by the end of the week, but with 62 students and 10 teachers in total it was a lot to process! In terms of the pupils we managed to get through waves, up climbs and over mountains, I think that the week was one of the most successful I can remember. Your program in the Hautes Alpes remains just about the most adventurous and ambitious course imaginable for kids of that age from a city school – long may it stay that way!!
Best wishes,
Mark

Mark Manville
Head of Business Studies
British School of Paris
Jun 9, 2013

From Michael Farley
Subject: Re: Well done and THANK YOU .......Leadership In Action
To all climbing participants,
Thank you so much for supporting our Climbers Against Diabetes fund raising challenge. And thank you for your inspiring school presentation, Jerry.
We're very happy to have given Sam and all involved this opportunity - a great effort and all for your fantastic cause. Lots of kids are going to benefit from the climb.
Well done again to all involved - and thanks to you Jerry for the inspiration in the first place.
Best wishes,
Mick
Michael Farley
Head Master
Harrow Bangkok
13 Jun 2016

From: Kevin Moran
SMS Text
To: Jerry Gore, The AlpBase Academy
I would like to say I have been highly impressed with this year's Yr. 7 KS3 week. All activities have been a direct improvement on other providers course. Also, the whole team was very impressed with Rob Benton, our Course Director for Yr. 7 throughout the week.

Kevin Moran
Head of Activities
British School of Paris
Tuesday 21 June 2016

From: Headmaster – BSP To: Jerry Gore
Subject: Residential trip (British School of Paris)
Dear Jerry,
I wanted to write to you and your team to express my thanks for all that you have done to make the 2016 BSP KS3 expeditions week such a success.
I am delighted to report that judging from all that I heard about the trips staff were very impressed with what they saw and did. Your corner of the Alps most definitely received a thumbs up!

Having spoken with the students it is clear that many achieved things of which they thought they were incapable, and ensuring that they know that they really do have true grit when it comes to facing obstacles. This opportunity will be a major element in shaping their approach to challenges in the future.

Yours sincerely,
Nicholas

Nicholas Hammond
Headmaster
The British School of Paris
Thu, Jun 23, 2016

Thank you so much for an incredible ski touring trip.

When we came up with the plan of running a school backcountry skiing trip there really were no companies out there offering this trip. But having run sport climbing trips through AlpBase Academy for a number of years, they were the obvious choice and we spoke with Rob and Jerry who were excited to work with us on this project.

This trip was completely bespoke for our requirements and Rob worked with us tirelessly to plan every detail and was always available on the phone and email to answer every query I had. In the end, the trip surpassed all the expectations of everyone involved. The accommodation was perfect, the skiing amazing and the guide was knowledgeable, connected well with the students, was patient and very safety conscious. Even throughout the course, the itinerary was tweaked to tailor it to the abilities of the students and to take advantage of the excellent snow conditions.

I think this feedback from one parent says it all "My son had an absolutely fantastic time and is smitten with powder. For a boy of few words and not known for overstatement, his rating for the trip of 9.5 out of 10 said it all"

I look forward to working with AlpBase Academy for our next trip.

Thomas Passmore

St Paul's School